How does variodrive thin design technology work?
Software using the most advanced calculations is used to create customized lenses and the ultimate in comfort and lightweight products. Every prescription is reassessed to compensate for optical distortions related to the frame wrap angle.
When the prescription reaches the limits of the conventional digital surfacing method, our patented algorithm calculates the best lens geometry regarding the optical area and the transition zone, and reduces the edge thickness (US patent number 8,002,404). Every product is customized to the prescription, frame, and wearer's facial metrics and is precisely surfaced thanks to the last digital lens surfacing technology.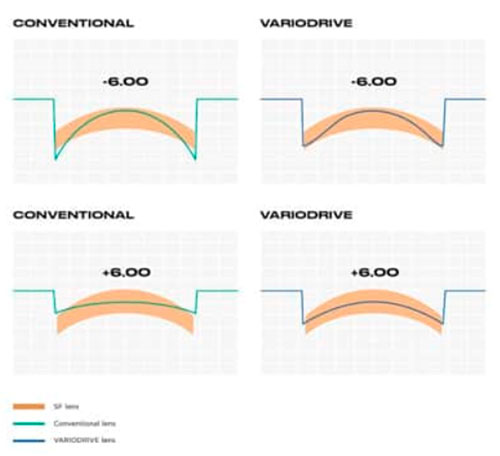 Our lenses
Nxt® sun lens
Built with NXT® technology and Trivex material, VARIODRIVE lenses are the perfect balance of optical and physical performance. Highly durable, they are also up to 72% thinner and 45% lighter than conventional prescription lenses.
An unparalleled range of prescription power
+6.00 to –8.00* (Cyl 4.00) for the Serengeti® sunglasses range
Suits to 99% of the prescriptions wearers in Single Vision and Progressive lenses.
Digital surfacing technology combines advanced customization with patented wrap optics experience, excellent for competitive sports.
Backside anti-reflection available on every lens.
Mineral lens
Available in Single Vision with conventional surfacing and VARIODRIVE Thin Design (Digital surfacing) for high prescriptions (Please refer to the website for further details) as well as in progressive lenses (Digital surfacing).
Stunning visual definition. Unsurpassed comfort. Flawless quality.
A large range of prescription power
+2.50 to -3.50* (Cyl +3.00) – Conventional surfacing
+2.50 to +4.00 and -3.50 to -7.00 * (Cyl +3.00) – VarioDrive Thin Design
Exceptional optical high definition.
Backside anti-reflection coating on every lens.
Base 6 and 8 corrective technology.
Progressive lenses
Progressive lenses come in two designs to adjust as closely as possible to the way the wearer uses them
Dynamic: Progressive lenses offer an enhanced field of view for long distances. Corridor and close ranges have more restricted vision. Recommended for active use.
All-purpose: Multi-purpose progressive lenses offer a wider field of vision over near and distant ranges. Recommended for daily use.